About ASC CARES
American Safety Council is proud to introduce ASC CARES, a program that helps people cultivate and renew employable skills as they transition from challenging situations back into the job market. By breaking barriers that prevent job seekers from finding work, we empower people to build brighter futures for themselves, their families and their communities.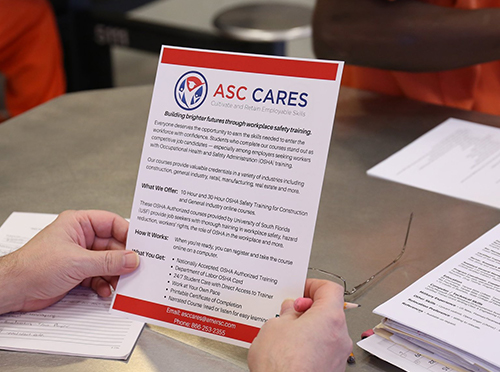 With our affordable and scalable online courses, we partner with organizations that provide occupational programs and vital resources to job seekers in need. Our goal is to connect people with training that leads to gainful employment.
Everyone deserves the opportunity to attain the skills and credentials they need to transition into the workforce with confidence. Students who complete our courses stand out as competitive job candidates — especially among employers seeking applicants with OSHA-authorized training. Our 10 and 30-Hour Outreach Training for Construction and General Industry courses are provided by University of South Florida (USF), an OSHA-Authorized online Outreach Training provider.
Each of our courses provide valuable credentials in a variety of industries, including construction, general industry, health care, retail, manufacturing, notary and more. We believe that effective training can make a positive impact in communities across the country.